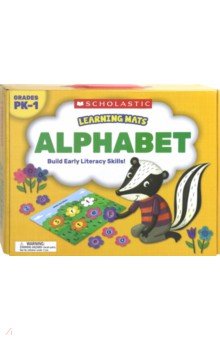 Издательство:
Scholastic UK
Год издания: 2018
ISBN: 978-1-338-23958-4
Наличие:
на складе
Here's a new fun way to lead children on the road to literacy! Colorful mats and letter tiles make learning and practicing the alphabet fun. Start building a foundation for academic success with the Learning Mats: Alphabet kit. The kit helps children practice these key reading skills: — Name the letters of the alphabet. — Recognize and match uppercase and lowercase letters. — Sequence letters. — Distinguish confusing letters. — Identify letter-sounds. — Develop automaticity (fluency) with alphabet-recognition skills. For use with Grades PreK-1.



Horrible Histories: Horrible Christmas
,
Deary Terry
Filled with all the festive facts every HORRIBLE HISTORIES reader wants to know! The complete horrible history of Christmas tells tales from the dark days when the Puritans tried to abolish Christmas, to Christmas in the trenches when the British and Germans traded bullets for footballs. Plus dreadful jokes, rotten recipes and a Christmas quiz!

Horton Hatches the Egg
,
Dr. Seuss
Everyone laughs when Horton the Elephant offers to sit on Mayzie bird's egg while she goes on holiday. Horton's kindness and faithfulness are sorely tested when he, and the egg, are kidnapped and sold to a circus — but his reward for being faithful is more wonderful than he could ever have dreamed! With his unique combination of hilarious stories, zany pictures and riotous rhymes, Dr. Seuss has been delighting young children and helping them learn to read for over fifty years. Creator of the wonderfully anarchic Cat in the Hat, and ranking among the UK's top ten favourite children's authors, Seuss is firmly established as a global best-seller, with over 600 million books sold worldwide. As part of a major rebrand programme, HarperCollins is relaunching Dr. Seuss's bestselling books, including such perennial favourites as The Cat in the Hat, Green Eggs and Ham and Fox in Socks. In response to consumer demand, the bright new cover designs incorporate much needed guidance on reading levels, with the standard paperbacks divided into three reading strands — Blue Back Books for parents to share with young children, Green Back Books for budding readers to tackle on their own, and Yellow Back Books for older, more fluent readers to enjoy. Horton Hatches the Egg belongs to the Yellow Back Book range.

The Highway Rat. Sticker Book
,
Donaldson Julia
Join in with the Highway Rat's fun in this fabulous sticker activity book based on the bestselling book THE HIGHWAY RAT, by Julia Donaldson and Axel Scheffler. Jam-packed with sticker activities themed around the book, this is the perfect activity book for fans of THE HIGHWAY RAT. Included in the book: over 400 stickers, colouring-in, dot-to-dots, spot the difference, mazes, simple word searches and more!

Grumpycorn
,
McIntyre Sarah
Oh, what a Grumpycorn! A must-have unicorn picture book treat from the bestselling, award-winning Sarah McIntyre. Unicorn wants to write the most fabulous story in the world. He has a fancy notebook. A special fluffy pen. He has everything just perfect. But Unicorn has NO IDEA what to write! When his friends try to join in, will Unicorn turn into a ... GRUMPYCORN? A funny and feisty picture book celebrating teamwork, friendship and the joys of storytelling.
A Day with the Animal Builders
,
Rentta Sharon
The penguins' dream home is going to be amazing, with an ice rink, a helter-skelter and a swimming pool on the roof. However, the animal builders' apprentice, Donkey, is turning out to be a bit of a disaster. His bricklaying is a mess; he's a positive danger behind the wheel of a dumper truck, and his plumbing is a catastrophe. But who saves the day when a runaway bulldozer threatens to flatten all the builders' hard work? Donkey does! So that's what Donkey's good at: being super-strong!

Zog (board book)
,
Donaldson Julia

Zog
,
Donaldson Julia

Stick Man (+CD)
,
Donaldson Julia
Rhyming fun from the creators of The Gruffalo. Santa even pays a visit in this snowy delight. One morning Stick Man goes for a jog, and forgets to watch out for an excited dog. Suddenly Stick Man becomes the stick that the dog wants to use for his favourite trick! Soon Stick Man is being used for all sorts of things: a flag mast, a cricket bat, a river game. As summer changes to winter, Stick Man is lost and frozen. How will he get home to his Family Tree again? For Christmas, for bedtime, forever: a rhyme your whole family will love.

The Scarecrows' Wedding (board book)
,
Donaldson Julia
The Scarecrows' Wedding is the eagerly awaited new picture book from the creators of The Gruffalo and Stick Man, now available as a chunky board book with hardback cover. Written in Julia Donaldson's glorious rhyme and illustrated in glowing colour by Axel Scheffler, The Scarecrows' Wedding is a fabulous love story, with drama, humour, originality — and a happy ending! Two scarecrows, Betty O'Barley and Harry O'Hay, are planning the perfect wedding. But wicked scarecrow, Reginald Rake, has other ideas and almost ruins their special day. Harry must become a hero before he and Betty can have the wedding of their dreams.

Mortal Engines 1 (Mortal Engines series)
,
Reeve Philip
Mortal Engines launched Philip Reeve's brilliantly-imagined creation, the world of the Traction Era, where mobile cities fight for survival in a post-apocalyptic future. The feature film is coming in December 2018! The first instalment introduces young apprentice Tom Natsworthy and the murderous Hester Shaw, flung from the fast-moving city of London into heart-stopping adventures in the wastelands of the Great Hunting Ground. «No 11-to-16-year-old should miss the superbly imagined debut novel from Philip Reeve» — The Times «This big, brave, brilliant book combines a thrilling adventure story with endless moral conundrums» — The Guardian

Maze Runner 2: The Scorch Trials (Movie tie-in)
,
Dashner James
The second book in the New York Times bestselling Maze Runner series — now a series of major motion pictures starring Dylan O'Brien! See the films. Read the books. Enter the Maze ... Thomas was sure that escape from the maze meant he and the Gladers would get their lives back. But no one knew what sort of life they were going back to. The earth is a wasteland. Government and order have disintegrated and now Cranks, people driven to murderous insanity by the infectious disease known as the Flare, roam the crumbling cities hunting for their next victim ... and meal. Thomas can only wonder — does he hold the secret of freedom somewhere in his mind? Or will he forever be at the mercy of wicked?

His Dark Materials 3: The Amber Spyglass (Ann/Ed)
,
Pullman Philip
The third volume in Philip Pullman's incredible His Dark Materials trilogy. First published in 2000, and acclaimed as a modern masterpiece, it won the UK's top awards for children's literature. "We're going to the land of the dead and we're going to come back. " Will and Lyra, whose fates are bound together by powers be... The third volume in Philip Pullman's incredible His Dark Materials trilogy. First published in 2000, and acclaimed as a modern masterpiece, it won the UK's top awards for children's literature. "We're going to the land of the dead and we're going to come back. " Will and Lyra, whose fates are bound together by powers beyond their own worlds, have been violently separated. But they must find each other, for ahead of them lies the greatest war that has ever been — and a journey to a dark place from which no one has ever returned...