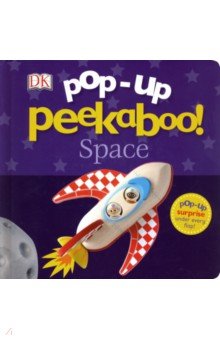 Автор:
Sirett Dawn
Издательство:
Dorling Kindersley
Год издания: 2019
ISBN: 9780241359396
Наличие:
отсутствует
Platinum Award-Winner of Best Baby Book and Best Activity Book in the Loved by Parents Awards 2019. Take your toddler on a pop-up, space rocket adventure, and fly to the Moon in this lift-the-flap baby book with pictures that pop off the page! This imaginative pop-up peekaboo picture book follows two little astronauts, Daisy and Danny, who are rocketing into space, past the stars and planets, and heading for their first Moon landing. Babies and toddlers can lift the flaps and see surprises pop up from the page, from the space rocket launching, to a funny alien spaceship, finishing with Daisy, Danny, and their robot landing on the Moon, and planting a flag with a friendly message from Planet Earth. The lively, read-aloud rhymes encourage literacy and early learning, while the pop-up space scenes hold the attention of curious preschoolers. With the help of parents and caregivers, toddlers will have fun turning the sturdy board book pages, guessing what's hiding under each flap, and then lifting the flaps to find the space characters and play peekaboo! Ideal for interactive preschool play, Pop-up Peekaboo! Space will appeal to both parents and children and is certain to keep little ones entertained time and time again!


Ugly Duckling, the (PB) illustr.
Through the Animal Kingdom (HB)

What A Waste
,
French Jess
Help save our planet by learning more about a rubbish subject — our litter and pollution. Everything you need to know about what we're doing to our environment, good and bad, from pollution and litter to renewable energy and plastic recycling. This environmental book will teach keen young ecologists about our actions affect planet Earth. Discover shocking facts about the waste we produce and where it goes. Did you know that every single plastic toothbrush ever made still exists? Or that there's a floating mass of rubbish larger than the USA drifting around the Pacific Ocean? It's not all bad news though. As well as explaining where we're going wrong, What a Waste shows what we're doing right! Discover plans already in motion to save our seas, how countries are implementing schemes that are having a positive impact, and how your waste can be turned into something useful. Every small change helps our planet!

My Very Important World
Our world is an amazing place. It's full of rivers, mountains, animals, and too many other amazing places to count. But that's not all. There's also families, friends, music, technology, language, games, and all other things that make life wonderful. This exciting children's book is a celebration of our world and what it's like to live in it. Unlike an atlas, this encyclopedia of discovery will entertain, educate, and inspire readers to wonder about the world around them. On one page they'll read about their body and brain, on another they'll learn about languages, sporting events, or the environment, and on others, they can marvel at wonders of the Earth such as fiery volcanoes, sprawling cities, or a place called «The Chocolate Hills». My Very Important World allows readers to delight in discovering where the coldest place on Earth is, how many languages there are, why they sometimes feel scared, and much, much more. There's a big wide world out there — so turn the pages to explore it.

Look I'm a Maths Wizard
Give little readers the opportunity to do what they do best: imagine, create, learn, problem solve, and play their way to maths magic! This playful preschool maths book, the latest in the Look! I'm Learning series, will unleash your child's curiosity as they play their way through 20 amazing maths projects. Perfect for kids ages 3 to 6, Look I'm a Maths Wizard is full of activities that show young readers just how much fun maths can be. Children will discover that maths is in the world all around them and that they already have the tools they need to be magical maths wizards: an inquisitive mind, unlimited imagination, and super senses. Bright photography and charming illustrations complement the easy-to-follow activity instructions. Each hands-on activity encourages budding mathematicians to use their senses as they explore key maths topics taught in schools.
Jack and the Beanstalk
Based on the traditional fairy tale, this picture book remains a firm favourite for parents looking for children's classics to read with their little one. When Jack sells his cow for a handful of magic beans, he doesn't expect a huge beanstalk to grow outside his window! Join Jack as he goes on an exciting and magical adventure up to the top of the towering beanstalk and discovers a peckish giant, a golden goose, and a magical harp. The charming illustrations by Giuseppe Di Lernia in this picture book are sure to capture the imaginations of little ones, and the large format of this book is ideal for sharing with children aged 3 to 5 and reading together at bedtime.

How to Tell the Time (lift-the-flap board bk)
,
McArdle Sean
A fun first guide to how to tell the time, this bright and bold lift-the-flap activity book features a clock with moveable hands! Telling the time is a key topic for early learners. This charming and colourful book helps kids understand the basics of telling the time. Fully interactive, the book features lift-the-flap puzzles that help kids to relate telling the time to everyday life — posing questions such as "It's 8.15 — is it time for breakfast? ", "Does it take 2 minutes to brush your teeth? ". How to Tell the Time introduces kids to how we measure time using seconds, minutes, hours, days, months, and years. It gets kids learning to tell and write the time to the nearest five minutes. There is a flap attached to the front jacket that opens to reveal an amazing clock with moveable hands. Quiz questions that relate to the clock are found sprinkled throughout the book, encouraging kids to move the hands on the clock face and tell the correct time. Telling the time is often a subject that children find hard to grapple with. This book is just what those children need, as it tackles the subject in a fully interactive and playful way.

Goodnight, Santa (board book)
,
Sirett Dawn
Snuggle up and share this magical Christmas story about a little girl who dreams of meeting Santa on Christmas Eve. A little girl and her teddy go out in their snowy, moonlit garden, looking for Santa. Along the way, they meet playful fox cubs, Mrs Owl, and Mr Cool Cat, and wish them all goodnight. Soon the little girl learns that Santa only comes when you're fast asleep and tucked up in bed. Can she still find a way to wish him goodnight?

First How Things Work Encyclopedia: A First Refer
All the most important science topics for kids, from magnets and sound waves to flight and search engines, are simply explained in this fun and informative illustrated STEM book for children studying KS1 and KS2 subjects. First How Things Work Encyclopedia covers everything children aged 5-9 need to know. What makes rockets go? How does electricity work? Why do we sometimes see rainbows in the sky? This book follows the curriculum for Key Stages 1 and 2 and provides a strong foundation for science and STEM learning through the rest of the school years. This is the perfect homework help book to support children as they begin to learn about the inner workings of the world around them. It introduces exciting areas of science that will get kids hooked on learning about how things work, including levers, light bulbs, engines, and roller-coasters. This book sits in DK's popular First Reference series, which is perfect for kids who want to explore the world around them.

The Ecology Book
Explore ecology in this accessible introduction to how the natural world works and how we have started to understand the environment, ecosystems, and climate change. Using a bold, graphic-led approach, The Ecology Book explores and explains over 85 of the key ideas, movements, and acts that have defined ecology and ecological thought. The book has a simple chronological structure, with early chapters ranging from the ideas of classical thinkers through to attempts by Enlightenment thinkers to systematically order the natural world. Later chapters trace the evolution of modern thinking, from the ideas of Thomas Malthus, Henry Thoreau, and others, right the way through to the political and scientific developments of the modern era, including the birth of the environmental movement and the Paris Agreement. The ideal introduction to one of the most important subjects of our time.

Busy Jobs (board bk)
What do you want to be when you grow up? Explore the world of jobs people do with this sturdy tabbed board book for babies and toddlers. With lots of colourful, fun-filled pictures, things to name and talk about, as well as simple questions and activities, this baby book about jobs is ideal for preschool learning. Share it together and help your inquisitive toddler develop their speaking, listening, and observational skills as they learn to identify objects. Whether your little one dreams of being a doctor, a chef, a mechanic, or a builder, they will love learning about different jobs. 13 picture tabs invite little ones to explore the world of going to work, as they turn the pages by themselves and get hands-on with their learning. Babies can go straight to their favourite pages using the easy-grip picture tabs, which are perfect for little hands, where they'll find vibrant images of everyday objects. Your toddler will enjoy pointing to and naming the clear photographs of objects, from a firefighter with her helmet, torch, and hose pipe, to a zoo keeper with zoo animals, to a pilot, plane, passport, and tickets — there is something for every child to enjoy. Lively questions such as "What meal shall we cook in the kitchen? " and "Can you make a loud noise like a fire engine? " encourage interaction and learning through play. What are you waiting for? Let's go to work!

Women Our History
Re-examining history from a female perspective, this book celebrates the numerous important roles women have played in culture and society that are less often told. Packed full of evocative images, this gloriously illustrated book reveals the key events in women's history — from early matriarchal societies through women's suffrage, the Suffragette movement, 20th-century feminism and gender politics, to recent movements such as #MeToo and International Women's Day — and the key role women have had in shaping our past. Learn about the everyday lives of women through the ages as well as the big ?names of women's history — powerful, inspirational, and trailblazing women such as Cleopatra, Florence Nightingale, Emmeline Pankhurst, Eva Peron, and Rosa Parks — and discover the unsung contributions of lesser-known women who have changed the world, and the «forgotten» events of women's history. Placing women firmly centre stage, Women — Our History shows women where they have come from, and, in celebrating the achievements of women of the past offers positive role models for women of today.