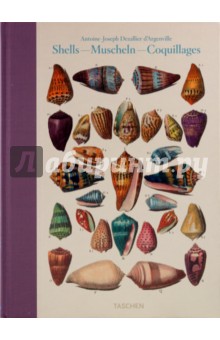 Автор:
Carpita Veronica
,
Willmann Rainer
,
Willmann Sophia
Издательство:
Taschen
Год издания: 2009
ISBN: 978-3-8365-1111-7
Наличие:
отсутствует
Antoine-Joseph Dezallier d'Argenville (1680-1765) was a French courtier, intellectual and amateur natural historian. Fascinated by seashells, he authored one of his era's most lavish books, dedicate to the rarest and most beautiful examples. La Conchyliologie ou Histoire Naturelle des Coquilles de Mer, d'Eau Douce, Terrestres et Fossiles, published in 1780, was a summation of 18th century conchology, with drawings so vivid they sparked a Parisian fad for natural history. The natural beauty of seashells has enchanted cultures around the world since time immemorial. The «recreation of the eye and mind» inspired by them has been celebrated in literature and throughout humanist circles across Europe since antiquity: in his De oratore, the classical scholar Cicero extolled the value of the leisure and friendship cultivated by two friends who spent their leisurely hours collecting shells. These wonderful marine forms-"the artifice of nature"-were considered capable of elevating the spirit and stimulating the senses, as well as refining the taste and creativity of artists. Throughout history, their innumerable shapes, crenulations, and vast variety of colors and patterns have inspired painters and jewelers, architects and textile designers, sculptors and furniture makers, gunsmiths and glass-blowers. TASCHEN's complete reprint of these 80 splendid hand-colored copper engraved plates, rendered in exquisite detail and the subtlest colors, is taken from one of the finest original copies. About the authors: Veronica Carpita studied art history at the University of Pisa. Her numerous publications focus on antiquarian and scientific collections, such as Agostino Scilla's seminal work of conchology, La vana speculazione disingannata dal senso, published in 1670. Sophia Willmann studied biology, and specializes in the behaviour of marine organisms. In 2007 she took part in whale research at the Port Elizabeth Museum, South Africa. She is also the author of children's books that focus on biology. Rainer Willmann holds a chair in zoology at Gottingen University, is director of its Zoological Museum, and is co-founder of its Centre for Biodiversity and Ecology Research. A specialist in phlogenetics and evolution, he conducts research into biodiversity and its history. Издание на английском, немецком и французском языках.



LaChapelle: Good News
Taschen is proud to announce Lost + Found, Part I and Good News, Part II, the long-awaited, latest and final publications from artist David LaChapelle. The books are the fourth and fifth installments of LaChapelle's five-book anthology, which began with LaChapelle Land (1996), continued with Hotel LaChapelle (1999), and followed by Heaven to Hell (2006).Good News, Part II follows David LaChapelle's creative renaissance as he surrenders to contemplations of mortality, moving beyond the material world in a quest for paradise. Featuring a monumental curation of images that have never before been published in book form, it is a sublime and arresting new body of work that attempts to photograph that which can't be photographed. It represents the final chapter to LaChapelle's narrative in a collection of books that have captivated a generation of viewers across the globe.Good News features: Pamela Anderson, Lana Del Rey, Sharon Gault, Janet Jackson, Michael Jackson, Paris Jackson, David LaChapelle, Amanda Lepore, Miriam Makeba, Sergei Polunin, Tupac Shakur, Elizabeth Taylor, and many more...Lost + Found, Part I and Good News, Part II are sold separately. Also available as a two-volume Art Edition limited to 500 copies and accompanied by three prints signed by David LaChapelle.
Macke
,
Meseure Anna
August Macke (1887-1914) quickly ascended to notoriety, only to be killed at the tender age of 27 at the start of World War I. Despite his brief career, the artist left a remarkable oeuvre in his wake, his obsessions with color reflecting aspects of Impressionism, Post-Impressionism, Fauvism, and Expressionism. Through his engagement with these diverse schools of art, Macke assimilated disparate influences and approaches into a style entirely his own. Grouped with the Blaue Reiter movement, but eschewing the mysticism that often pervaded the works of its artists, Macke returned time and again to color-led interpretations of beauty, whether the kaleidoscopic watercolor Bright Women in front of the Hat Shop (1913), or the shimmering hues of Lady in a Green Jacket (1913). These colors reached their zenith in 1914 when Macke traveled with Klee and Moilliet to Tunis and became acquainted with North African light. With leading examples from his vivid painterly world, this book introduces us to Macke's short but influential career as a pioneering Expressionist. From cheerful scenes of parks, zoos, and promenades to his final major work, ominously titled Farewell (1914), we explore a remarkable talent for visual impact and an intense pursuit of the emotional possibilities of color. About the series Born back in 1985, the Basic Art Series has evolved into the best-selling art book collection ever published. Each book in TASCHEN's Basic Art series features: a detailed chronological summary of the life and oeuvre of the artist, covering his or her cultural and historical importance a concise biography approximately 100 illustrations with explanatory captions

Rock Covers
,
Wiedemann Ed. Julius
,
Kirby Jomathan
,
Busch Robbie
Album art is indelibly linked to our collective musical memories; when you think of your favorite albums, you picture the covers. Many photographers, illustrators, and art directors have become celebrities from their album artworks-the best examples of which will go down in history as permanent fixtures in popular culture. Paying tribute to this art form, Rock Covers brings you a compilation of more than 750 remarkable album covers, from legendary to rare record releases. Artists as varied as Elvis Presley, The Beatles, The Sex Pistols, Pink Floyd, The Cure, Iron Maiden, and Sonic Youth are gathered together in celebration of the cover art that defined their albums and their cult status. Each cover is accompanied by a fact sheet listing the art director, photographer or illustrator, year, label, and more, while nearly 250 records that marked particular turning points for a band, an artist, or the music genre, are highlighted with short descriptions. This far-reaching catalog of visualized rock is contextualized with insider interviews with professionals who shaped the history of rock, and by top-10 record lists from ten leading rock collectors.

Neutra
,
Lamprecht Barbara
In the architecture of Richard Neutra (1892-1970), inside and outside find their perfect modernist harmony. As the Californian sun glints off sleek building surfaces, vast glass panel walls allow panoramic views over mountains, gardens, palm trees, and pools. Neutra moved to the United States from his native Vienna in 1923 and settled in Los Angeles. He displayed his affinity with architectural settings early on with the Lovell House, set on a landscaped hill with views of the Pacific Ocean and Santa Monica Mountains. Later projects such as the Kaufmann House and Nesbitt House would continue this blend of art, landscape, and living comfort, with Neutra's clients often receiving detailed questionnaires to define their precise needs. This richly illustrated architect introduction presents the defining projects of Neutra's career. As crisp structures nestle amid natural wonders, we celebrate a particularly holistic brand of modernism which incorporated the ragged lines and changing colors of nature as much as the pared down geometries of the International Style.
Lautner
With his geometric structures perched upon the hillsides, beaches, and deserts of California, John Lautner (1911-1994) was behind some of the most striking and innovative architectural designs in mid-20th-century America. This introductory book brings together the most important of Lautner's projects to explore his ingenious use of modern building materials and his bold stylistic repertoire of sweeping rooflines, glass-paneled walls, and steel beams. From commercial buildings to such iconic homes as the Chemosphere, we look at Lautner's sensitivity to a building's surroundings and his unique capacity to integrate structures into the Californian landscape. With several of Lautner's houses now labeled Los Angeles Historic-Cultural Monuments, we'll also consider the architect's cultural legacy, as much as his pioneering of a visual paradigm of 1950s optimism, economic growth, and space-age adventure.

Case Study Houses
,
Smith Elizabeth A.T.
The Case Study House program (1945-1966) was a unique event in the history of American architecture. Sponsored by Arts & Architecture magazine, the program sought to respond to the postwar building boom with prototype modern homes that could be both easily replicated and readily affordable to the average American. Concentrated on the Los Angeles area, the Case Study Houses included 36 model homes commissioned from such major architects of the day as Richard Neutra, Raphael Soriano, Craig Ellwood, Charles and Ray Eames, Pierre Koenig, Eero Saarinen, A. Quincy Jones, and Ralph Rapson. Their criteria included "using, as far as is practicable, many war-born techniques and materials best suited to the expression of man's life in the modern world." The results of the program would redefine the modern home and extend influence not only across the United States but around the world. This compact guide includes all of the Case Study Houses with over 150 photos and plans, as well as a map showing locations of all sites, including those that no longer exist.

Piano
,
Jodidio Philip
While some architects have a signature style, Renzo Piano seeks to apply coherent ideas to extraordinarily different projects. His buildings impress as much for their individual impact as for their diversity of scale, material, and form. Piano rose to international prominence with his codesign of the Pompidou Center in Paris, described by The New York Times as a building that "turned the architecture world upside down." Since then, he has continued to craft many high-profile cultural spaces, including the Modern Wing of the Art Institute of Chicago; the Morgan Library Renovation and Expansion in New York; and, most recently, the Whitney Museum of American Art, an asymmetric nine-story structure in Manhattan's Meatpacking District with both indoor and outdoor galleries. In New York and London, the Renzo touch has also transformed the skyline with the towers of the New York Times Building and the Shard, the tallest building in the European Union. This essential introduction travels from Osaka, Japan, to Bern, Switzerland, and through many cities, structures, and islands in between, to explore the staggering scope of the Renzo Piano repertoire. From the "inside-out" Pompidou to the airy shells of the Tjibaou Cultural Center in Noumea, New Caledonia, this is a thrilling journey through the beauty of architecture, where, in Piano's own words, "each time, it is like life starting all over again."

Bauhaus
,
Droste Magdalena
In a fleeting 14-year period between two world wars, Germany's Bauhaus school of art and design changed the face of modernity. With utopian ideas for the future, the school developed a pioneering fusion of fine art, craftsmanship, and technology, which they applied across media and practices from film to theater, and sculpture to ceramics. This best-selling reference work is made in collaboration with the Bauhaus-Archiv/Museum fur Gestaltung in Berlin, the world's largest collection on the history of the Bauhaus. Some 575 illustrations including architectural plans, studies, photographs, sketches, and models record not only the realized works but also the leading principles and personalities of this idealistic creative community through its three successive locations in Weimar, Dessau, and Berlin. From informal shots of group gymnastics to drawings guided by Paul Klee, from extensive architectural plans to an infinitely sleek ashtray by Marianne Brandt, the collection brims with the colors, materials, and geometries that made up the Bauhaus vision of a "total" work of art. This is a defining account of Bauhaus' energy and rigor, not only as a trailblazing movement in Modernism but also as a paradigm of art education, where creative expression and cutting-edge ideas led to simultaneously functional and beautiful creations. The handy edition features artists Josef Albers, Marianne Brandt, Walter Gropius, Gertrud Grunow, Paul Klee, Ludwig Mies van der Rohe, Lilly Reich, and many more.

Giger
,
Giger HR
Swiss artist HR Giger (1940-2014) is most famous for his creation of the space monster in Ridley Scott's 1979 horror sci-fi film Alien, which earned him an Oscar. In retrospect, this was just one of the most popular expressions of Giger's biomechanical arsenal of creatures, which consistently merged hybrids of human and machine into images of haunting power and dark psychedelia. The visions drew on demons of the past, harking back as far as Giger's earliest childhood fears as well as evoking mythologies for the future. Above all, they gave expression to the collective fears and fantasies of his age: fear of the atom, of pollution and wasted resources, and of a future in which our bodies depend on machines for survival. From surrealist dream landscapes created with a spray gun and stencils to album cover designs, from guillotine-like sculptures to self-designed bars, Giger personally guides us through his multi-faceted universe in this definitive introduction to a master of horror. Detailed reproductions and designs and a foreword by Timothy Leary complement Giger's intimate autobiographical texts.

Basquiat
The legend of Jean-Michel Basquiat is as strong as ever. Synonymous with 1980s New York, the artist first appeared in the late 1970s under the tag SAMO, spraying caustic comments and fragmented poems on the walls of the city. He appeared as part of a thriving underground scene of visual arts and graffiti, hip hop, post-punk, and DIY filmmaking, which met in a booming art world. As a painter with a strong personal voice, Basquiat soon broke into the established milieu, exhibiting in galleries around the world. Basquiat's expressive style was based on raw figures and integrated words and phrases. His work is inspired by a pantheon of luminaries from jazz, boxing, and basketball, with references to arcane history and the politics of street life-so when asked about his subject matter, Basquiat answered "royalty, heroism and the streets." In 1983 he started collaborating with the most famous of art stars, Andy Warhol, and in 1985 was on the cover of The New York Times Magazine. When Basquiat died at the age of 27, he had become one of the most successful artists of his time. First published in an XXL edition, this unprecedented insight into Basquiat's art is now available in a compact, accessible volume in celebration of TASCHEN's 40th anniversary. With pristine reproductions of his most seminal paintings, drawings, and notebook sketches, it offers vivid proximity to Basquiat's intricate marks and scribbled words, further illuminated by an introduction to the artist from editor Hans Werner Holzwarth, as well as an essay on his themes and artistic development from curator and art historian Eleanor Nairne. Richly illustrated year-by-year chapter breaks follow the artist's life and quote from his own statements and contemporary reviews to provide both personal background and historical context.

Aalto
,
Lahti Louna
Alvar Aalto (1898-1976) made a unique modernist mark. Influenced by both the landscape and the political independence of his native Finland, he designed warm, curving, compassionate buildings, wholly set apart from the slick, mechanistic, geometric designs that characterized much contemporary European practice. Whether a church, a villa, a sauna, or a public library, Aalto's organic structures tended to replace plaster and steel with brick and wood, often incorporating undulating, wave-like forms, which would also appear in his chair, glassware, and lamp designs. An adherent to detail, Aalto insisted upon the humanity of his work stating: "Modern architecture does not mean using immature new materials; the main thing is to work with materials towards a more human line." Many of Aalto's public buildings such as Sдynдtsalo Town Hall, the lecture theatre at Otaniemi Technical University, the Helsinki National Pensions Institute and the Helsinki House of Culture may be seen as psychological as well as physical landmarks in the rebuilding of Finland after the ravages of war.

Michelangelo
,
Neret Gilles
Italian-born Michelangelo di Lodovico Buonarroti Simoni (1475-1564) was a tormented, prodigiously talented, and God-fearing Renaissance man. His manifold achievements in painting, sculpture, architecture, poetry, and engineering combined body, spirit, and God into visionary masterpieces that changed art history forever. Famed biographer Giorgio Vasari considered him the pinnacle of Renaissance achievement. His peers called him simply "Il Divino" ("the divine one"). This book provides the essential introduction to Michelangelo with all the awe-inspiring masterpieces and none of the queues and crowds. With vivid illustration and accessible texts, we explore the artist's extraordinary figuration and celebrated style of terribilita (momentous grandeur), which allowed human and biblical drama to exist in compelling scale and fervor. Through the power hubs of Renaissance Italy, we take in his major commissions and phenomenal capacity for compositional schemes, whether the famous Medici library in Florence, or the extraordinary 500-square-meter ceiling (1508-1512) in the Vatican's Sistine Chapel. From the towering David to the aching grief and faith of The Pieta and the vivid drama of the Sistine Chapel's Last Judgment, this is a succinct, dependable reference to a true giant of art history and to some of the most famous artworks in the world.