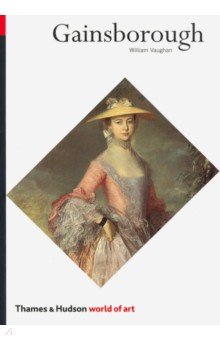 Автор:
Vaughan William
Издательство:
Thames&Hudson
Год издания: 2019
ISBN: 9780500203583
Серия:
World of Art
Наличие:
на складе
Gainsborough is one of the most appealing artists of the eighteenth century. Renowned for such elegant portraits as The Blue Boy and Countess Howe, he also pioneered a new form of landscape with a moody sensibility that prefigured the Romantic movement. He was a brilliant draftsman, and his art is full of inventiveness and visual delight. William Vaughan draws on recently discovered material to provide a fresh perspective on both the life and art of this master. He shows how closely Gainsborough's innovative manner can be connected to social and political developments in Britain, in particular the celebration of original genius in a time of burgeoning entrepreneurial commercialism. Above all, he demonstrates how, beneath the artist's charm, there lay a bedrock of shrewd observation and pictorial intelligence that gives his work a value for all time.



Islamic Art and Architecture
,
Hillenbrand Robert
Embracing over a thousand years of history and an area stretching from the Atlantic to the borders of India and China, this is an unrivalled synthesis of the arts of Islamic civilization. From the death of the Prophet Muhammad to the present day, Robert Hillenbrand traces the evolution of an extraordinary range of art forms, including architecture, calligraphy, book illumination, painting, ceramics, glassware, textiles and metalwork. New to this edition is a chapter ranging from c. 1700 to c. 1900, a period very often neglected in books on this subject. Hillenbrand explores how recent centuries, far from being a dark age, saw extraordinary artistic ferment and creativity across the Islamic world. Throughout, full-colour illustrations of masterpieces of Islamic art and architecture — from Moorish Spain to modern Iran — show the far-reaching stylistic developments as well as the recurrent preoccupations that have shaped the arts of Islam since the seventh century.

Scottish Art
,
Macdonald Murdo
What makes Scottish art Scottish? In this now classic book, Murdo Macdonald explores the distinctive characteristics of Scottish art over the centuries — such as the heritage of Celtic design with its emphasis on intricate pattern; the importance of the landscape, particularly the Highlands and the sea; and a close connection with France. He ranges from the earliest surviving art — Neolithic standing stones — through the art of the Picts and Gaels, and the tumultuous centuries of the Reformation, to the great flowering of Scottish art in the Enlightenment. The final chapters focus closely on art produced since 1900, with succinct and revealing analyses of the Scottish Colourists and the major figures of contemporary art in all media. Masterpieces from the Book of Kells to paintings by Charles Rennie Mackintosh and Joan Eardley are illustrated in full colour, and such key works are set in a clearly explained historical context throughout. Macdonald's lucid and deeply researched book makes a significant contribution to the understanding of Scotland's artistic past and present.

Art and Myth in Ancient Greece
,
Carpenter T. H.
The Greek myths are so much part of our culture that we tend to forget how they entered it in the first place. Visual sources — vase paintings, engraved gems and sculpture in bronze and stone — often pre-date references to the myths in literature, or offer alternative, unfamiliar tellings. In some cases visual art provides our only evidence, as there is no surviving account in ancient Greek literature of such important stories as the Fall of Troy, or Theseus and the Minotaur. T. H. Carpenter's illuminating and succinct survey will enable you to identify scenes from myths across the full breadth of archaic and classical Greek art. Copiously illustrated, it is an essential reference work for everybody interested in the art, drama, poetry or religion of ancient Greece.

Marcel Duchamp
,
Ades Dawn
,
Cox Neil
,
Hopkins David
Genius. Anti-artist. Charlatan. Impostor! Marcel Duchamp has been called all of these. Almost no other artist of the twentieth century has inspired more passion — or greater controversy. Duchamp challenged the very nature of art, striving to redefine it as conceptual rather than as a 'product'; his influence is felt everywhere in today's art world. Always the provocateur, he never ceased his engagement, openly or secretly, in activities and works that transformed traditional modes of art-making. This revised and expanded edition of Marcel Duchamp remains one of the most original books written on this enigmatic artist. Featuring a new chapter and preface, as well as updates throughout, this is the definitive introduction to Duchamp. Generously illustrated, this volume combines significant research by three expert authors to challenge and reshape history's presumptions, misunderstandings, and misinformation about Marcel Duchamp and his legacy.

The Art of Contemporary China
,
Jiehong Jiang
Surveying the last forty years since the end of China's Cultural Revolution, this book redefines contemporary Chinese art by placing it in the context of unprecedented cultural, political and urban transformation. Writer and curator Jiang Jiehong takes a thematic approach, examining how artists have responded to concepts of the collective, tradition, urbanization and development outside the constraints of contemporary China and beyond the conventional art space. Artworks by important, internationally recognized artists and emerging practitioners are represented through curatorial discussions, as well as images of original installation views and historical art events. Illustrated in full-colour throughout, this concise and far-reaching survey offers new insights into the relationship of contemporary Chinese art to the past and the present.

Bauhaus. World of Art
,
Whitford Frank
The Bauhaus, a school of art and design founded in Germany in 1919, informed the aesthetic of much of our contemporary environment, influencing everything from housing developments to furniture and websites. The Bauhaus was only in operation for fourteen years before being shut down by the Nazis in 1933, but the school left a lasting mark on design and the practice of art education throughout the world. In Bauhaus, Frank Whitford traces the ideas behind the school's conception, describes its teaching methods, examines the daily lives of the students, and details the activities of the teachers, which included Paul Klee, Josef Albers, and Wassily Kandinsky. Reissued to mark the one hundredth anniversary of the founding of the Bauhaus, this is an accessible and vibrantly illustrated introduction to perhaps the most significant design school of the last century.

Faberge and the Russian Crafts Tradition
,
Trombly Margaret Kelly
A beautifully illustrated book on Russian decorative arts, published to coincide with an exhibition at the Walters Art Museum This book gives a fascinating overview of Russian decorative art, revealing a highly accomplished crafts tradition that persisted over nine centuries. It includes works by Peter Carl Faberge and his workshop, jeweled Byzantine icons, silver drinking vessels, and intricate enamels. Featured are two extraordinary Faberge eggs that were once in the Russian Imperial collection, including one that opens up to reveal a miniature gold replica of the Gatchina Palace, near St. Petersburg. The decorative arts had flourished in Russia under the patronage of the tsars and their court, whose apparently limitless resources supported the production of some of the most technically sophisticated works of art ever made. With the onset of the Russian Revolution, a few individuals helped bring many of these objects to Europe and then into major private and public collections in the United States, including that of the Walters Art Museum. On the 100th anniversary of the revolution, this book tells the stories of their initial dispersal and of the collectors and dealers through whose hands they passed. Full catalog entries for each object are included. 160 illustrations in color and black and white.

Retro Cameras
,
Wade John
An accessible, stylish guide to still-usable vintage film cameras: which to buy, where to find them, and how to get the most out of them. Retro Cameras is a stylish guide for a generation that has moved from sharing vintage-filtered digital images via Instagram to embracing «old school» analog film photography and manual cameras of all formats. Quick reference shooting guides accompany each camera type, allowing even a camera phone junkie to quickly come to grips with shooting on film with a vintage camera. More than 100 camera models are included, from 35mm SLRs to Roll Film SLRs and Instant Cameras. With over 400 specially commissioned photographs, an in-depth test drive of each camera type, practical advice on how to use and get the most out of each camera, buyers' tips, and a dedicated glossary, Retro Cameras is a perfect reference for amateurs and professionals alike. 500+ illustrations

Flora Magnifica: The Art of Flowers in Four Seasons
,
Azuma Makoto
,
Shiinoki Shunsuke
This sumptuous book is not a reference work, nor it is simply a collection of beautiful flowers. It is the product of a longstanding collaboration between renowned flower artist Makoto and botanical photographer Shunsuke Shiinoki. Working together, they have selected hundreds of plant species and arranged them in striking combinations that could never exist in the natural world, so creating a unique floral aesthetic. The result is a series of dense, luxuriant images, rich in colour and texture, in which nature and artifice are skilfully mingled. The four chapters are themed according to the cycle of the seasons: the freshness and new life of spring, the exuberance and abundance of summer, the fading grandeur of autumn and the deepening shadows of winter. Recalling the opulent still-life paintings of the 17th century, the photographs not only capture the surface beauty of the flowers, but suggest the burgeoning life brimming within them as well as its transience. From the sensuality of opening petals to the unfurling elegance of fern fronds, these gorgeous displays are vividly preserved in a meditative and inspirational book that will enchant all lovers of nature and art.

The Photograph as Contemporary Art
,
Cotton Charlotte
In the 21st century photography has come of age as a contemporary art form Almost two centuries after photography was first invented, the art world has fully embraced photography as a legitimate medium, equal in status to painting and sculpture. In light of these exciting developments, this book provides an introduction to contemporary art photography, identifying its most important features and themes and celebrating its exciting pluralism through an overview of its most important and innovative practitioners. The nearly 250 photographers whose work is reproduced in the book range from established artists such as Isa Genzken, Jeff Wall, Sophie Calle, Thomas Demand, Nan Goldin and Sherrie Levine to emerging talents such as Walead Beshty, Jason Evans, Lucas Blalock, Sara VanDerBeek and Viviane Sassen. This new edition brings the story of contemporary art photography up to date with a revised introduction outlining the evolution of photography from documentary tool to art form, and an updated final chapter focusing on the younger generation of artists who emphasize the technical and material properties of photography, employ it as part of a wider pan-media practice, or respond to evolving new modes of dissemination in the digital age. Charlotte Cotton is a curator and writer. She has held positions including Head of the Wallis Annenberg Photography Department at the Los Angeles County Museum of Art, Head of Programming at the Photographers' Gallery, London, Creative Director at the National Media Museum, UK and Curator of Photography at the Victoria & Albert Museum, London. Cotton has curated a number of exhibitions on contemporary photography and her publications include Imperfect Beauty, Then Things Went Quiet and Guy Bourdin. 3rd Edition.