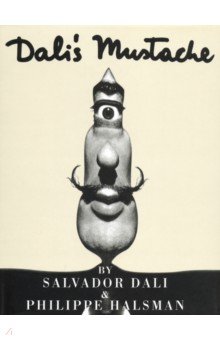 Автор:
Dali Salvador
,
Halsman Philippe
Издательство:
Flammarion
Год издания: 2019
ISBN: 9782080304667
Наличие:
на складе
Cult classic and collector's item, Dali's Mustache is the result of the astonishing artistic collaboration between surrealist Salvador Dal and experimental photography pioneer Philippe Halsman. Dal and Halsman were friends as well as professional collaborators for more than three decades. Subtitled A Photographic Interview, the concept of the book is one short question presented to Dal, which Dal answers, followed by a corresponding black-and-white photograph by Halsman. The photographs are intentionally absurd and hilarious. Early editions of this book came with a warning on the back that said "Warning! This book is preposterous. " Question: "I have the feeling, to have discovered your secret, Salvador. Could it be that you are crazy? " Answer: "I am certainly saner than the person who bought this book. "



Boris Godounov
,
Pouchkine Alexandre
On trouvera dans le theatre de Pouchkine, de Boris Godounov (1825) aux Scenes du temps des chevaliers (1835), l'expression la plus elevee de la pensee du poete russe : la grandeur humaine a pour compagnon oblige le malheur ; la vie, la beaute, le genie ne sont pas concevables sans l'envie, la laideur et le crime, Mozart sans Salieri, le tsar Boris Godounov sans Grichka l'usurpateur. La vie est double, donc, veritable festin entoure de tenebres ; et c'est cette dimension irremediablement tragique que le poete, la coupe a la main, doit se hater de celebrer avant que le neant l'engloutisse : «Je ne veux pas, mes amis, mourir/ Je veux vivre, pour penser et pour souffrir.»

Les Regrets
,
Du Bellay
Dans ce recueil fondateur, le poete angevin se nourrit de sa decouverte de Rome comme de la litterature d'exil pour construire une figure aux multiples facettes. De l'elegie a la satire et a l'eloge, il repousse les limites du sonnet et varie les tonalites de sa palette poetique.

18 contes de la naissance du monde
,
Rachmuhl Francoise
« C'etait au commencement du monde. La terre existait, avec ses fleuves, ses monts, ses forets et, au-dessus d'elle, le ciel etoile, et deja elle etait peuplee par les Titans et par les dieux. » Comment le monde est-il ne ? Est-il sorti d'un ?uf comme un oiseau, d'un ventre comme un enfant ? A-t-il flotte au fond des eaux ? Comment etait-ce avant les hommes, avant les animaux ? Venus des cinq continents, ces contes merveilleux peignent des visions differentes, parfois surprenantes, de la naissance du monde. Age: de 9 a 12 ans

The Best of Doisneau. Paris
,
Doisneau Robert
The legendary photographer's quintessential portraits of Paris-including several previously unpublished works-in an affordable new paperback. Robert Doisneau's ability to infuse images of daily life with poetic nuance has given enduring popular appeal to his work. In this new volume, he leads us on an entrancing tour into Parisian gardens, along the Seine, and through crowds of Parisians. Workers, beggars, lovers, jugglers, children, dancers-Doisneau's lens captures all, in myriad lights and moods. Sometimes humorous, often ironic, and unfailingly tender, his oeuvre is iconic and reflects the Paris of our dreams. Composed, structured images are featured alongside impromptu snapshots of Parisian life, demonstrating the range of Doisneau's talent as both artist and photojournalist.

Muse Picasso Paris
,
Baldassari Anne
,
Perdrisot Virginie
,
Philippot Emilia
This comprehensive tome covers all aspects of Picasso's artistic career, from self- portraits to sculpture to photography, and features an extensive chronology. The Musee Picasso Paris houses the most impressive collection of Picasso's works ever assembled. Structured chronologically, this compendious volume spans the artist's career, tracing the evolution of his art through ten phases, from the Blue Period (1901-04) to the portrait of The Young Painter (1972), which he finished in his penultimate year. Primarily devoted to Picasso's paintings, the book also explores his work in sculpture, ceramic, photography, drawing, and etching. Featuring 360 specially commissioned photographs of Picasso's greatest works, the history of the 4,500-room museum, critical analysis by the museum's experts, an extensive biography of Picasso's life, and photographs of the artist, this compact edition, previously published as Picasso's Masterpieces, is an essential resource. This chunky paperback edition is beautifully produced and features a debossed reproduction of Picasso's Bull's Head, a vertical band, and a tuxedo-strip detail along the page trim. Covers in three color variations--turquoise, red, or yellow--are shipped at random.

Grand loup & petit loup. La petite feuille qui ne tombait pas
,
Brun-Cosme Nadine
" Tout en haut de l'arbre, il y a cette petite feuille. Au printemps, elle etait d'un vert si doux, d'un vert si tendre, que Petit Loup avait drolement envie de la manger. — Grand Loup, disait Petit Loup, va la chercher, j'ai tant envie de la manger. — Attends, disait Grand Loup, elle finira bien par tomber. "

Anatomy of Style
,
Gachet Sophie
Through photographs of both iconic and individual styles, this book decodes celebrity fashion secrets and demonstrates how to effortlessly reproduce the showstopping looks. What are Kate Moss' sartorial obsessions? How does Gigi Hadid create fashion buzz? Which tricks does Gwyneth Paltrow use to stay on top of new trends? What defines Kate Middleton's princess style? From her years as a fashion journalist for Elle and her front row seat at the runway shows, Sophie Gachet--a true fashion guru--has all the answers. Here, she breaks down celebrity looks and fashion trends into their essential elements, making them accessible to everyone. One hundred twenty celebrities including Victoria Beckham, Cate Blanchett, Millie Bobby Brown, Priyanka Chopra, Billie Eilish, Kaia Gerber, Ashley Graham, Kendall Jenner, Meghan Markle, Lupita Nyong'o, Olivia Palermo, Rihanna, Margot Robbie, and Zendaya provide wardrobe inspiration. Their singular outfits that range from chic to cool, sporty to quirky, and urban to classic are unpacked and dissected piece by piece. Iconic looks that have forged fashion history, such as Madonna's biker jacket, Marilyn Monroe's turtleneck, Audrey Hepburn's LBD, or Jennifer Lopez's plunging Versace dress take center stage. This generously illustrated book, written in the author's witty and incisive voice, is a must-have reference and indispensable style bible.

Suave in Every Situation. A Rakish Style Guide for Men
,
Dupleix Gonzague
A duo of men's fashion and contemporary culture experts present a witty, entertaining account of the modern gentleman through vivid illustrations. Two confirmed men's style specialists have crafted a humorous guide for navigating the perilous waters of modern life. This style bible offers wry and witty advice for every situation imaginable and keys to understanding masculine style a la francaise. Men today are faced with myriad choices that reflect on their personal style, and it can be baffling to know what to do. What role should you take on at a barbecue? Would Marcello Mastroianni have puffed on an electronic cigarette? What can you steal from Kurt Cobain's style? Why does wearing a turtleneck exude such masculinity? Should you hit the sidewalk on a hoverboard? What should you wear to cast your vote on election day? How to Be Suave in Every Situation is the ultimate guide to a tasteful and sophisticated life. Laying down the law on style and proper decorum for men of the twenty-first century, this volume enlightens the male population with the secrets to becoming a cultured, contemporary gentleman. The ultimate sartorial and etiquette guide, illustrated by Jean-Philippe Delhomme, this book is required reading for men of all ages.

Chanel. The Enigma
,
Fiemeyer Isabelle
This new biography offers unprecedented insight into Coco Chanel's complex and enigmatic life and features previously unpublished information and images. Coco Chanel continues to beguile more than four decades after her death; her life and work are a source of enduring fascination. Chanel expert Isabelle Fiemeyer unveils the mysteries that have surrounded the private and public figure by piecing together new research with accounts from Chanel's intimate friends and relatives, artists, writers, photographers, directors, actors, scholars, and those who worked with her inside the House of Chanel. The author describes Chanel's carefully crafted persona and then gradually elucidates each layer of intrigue that surrounded the great fashion designer to reveal the woman behind the enigma. Her life was marked by suffering that stemmed from affronts, an absent father, abandonment, and death, but also by vitally positive forces--her idealized childhood, collaborations with the world's greatest artists, and her permanently hypnotic, albeit staged, presence. Her life and work became inextricably linked and remain endlessly captivating. While the myth surrounding Chanel was extolled, perpetuated, and modulated by some, others twisted it, reviling and vilifying the designer, denouncing her as dispassionate and criticizing her for her poor relationship with her family, her mistakes, and her role during the war. Offering fresh revelations about Chanel's life, this handsome volume includes photographs and previously unpublished material, as well as new documents from the wartime period.

La Farce du Cuvier et autres farces du Moyen Age
A trop martyriser Jacquinot, sa femme se retrouve victime d'une mechante mesaventure. Jenin, lui, cherche desesperement a connaitre son pere, tandis que le bateleur trouve son bonheur a divertir ses semblables grace aux tours de son malicieux valet. Ces trois tableaux de la vie quotidienne au Moyen Age, pleins de joie et d'eclats de rire, mettent en scene des personnages aussi truculents que strateges, prets a bien des ruses pour arriver a leurs fins.

Fables
,
Bassy Alain-Marie
,
Pestipon Yves le
« On fait apprendre les fables de La Fontaine a tous les enfants, et il n'y en a pas un seul qui les entende. Quand ils les entendraient, ce serait encore pis ; car la morale en est tellement melee et si disproportionnee a leur age, qu'elle les porterait plus au vice qu'a la vertu. » C' est en ces termes que Rousseau, dans l'Emile, parle des Fables. Car les Fables ne sont pas ce qu'elles semblent etre ; elles cachent, travestissent, simulent et dissimulent a la fois. On doit apprendre a les lire. Pour cela, il faut demonter leurs mecanismes et leurs codes subtils, retrouver l'architecture secrete qui les ordonne. Les Fables sont un leurre, l'envers des apparences ; il convient, pour les gouter, de retourner les evidences.

Notre-Dame de Paris
,
Hugo Victor
Paris, 1482. Autour de la belle bohemienne Esmeralda, dont la danse resonne sur le parvis de Notre-Dame, gravitent trois pretendants prets a tout pour la conquerir : Phoebus, noble capitaine, Claude Frollo, pretre sans foi, et le celebre Quasimodo, bossu au grand c?ur… Surplombant le roman, la cathedrale, vivifiante Babel, lieu de refuge et d'epouvante aussi, voit se presser autour d'elle le peuple, acteur de l'Histoire en marche. Recit historique a la langue pittoresque et roman noir tout de meurtres et de mystere, Notre-Dame de Paris connait, aujourd'hui encore, une popularite sans egale. Ainsi que l'ecrivait Lamartine a l'auteur en 1831 : "C'est une ?uvre colossale, une piece antediluvienne. […] Je ne vois rien a comparer dans nos temps a Notre-Dame. C'est le Shakespeare du roman, c'est l'epopee du Moyen Age, c'est je ne sais quoi ; mais grand, fort, profond, immense, tenebreux comme l'edifice dont vous en avez fait le symbole. "