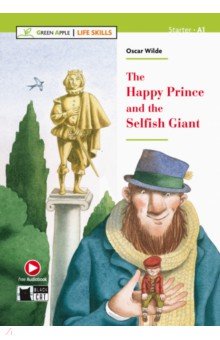 Автор:
Wilde Oscar
Издательство:
Black cat Cideb
Год издания: 2020
ISBN: 9788853019332
Серия:
Green Apple
Наличие:
на складе
Why is the Happy Prince sad? How can a little swallow help him? Find out how kindness and true friendship can change the lives of the people in the Prince's city. Why is it always winter in the Giant's garden? Why can't the children play there? Find out what happens when the Selfish Giant becomes generous and invites the children to his garden.



Alice's Adventures in Wonderland Bk +R
,
Carroll Lewis

Little Women
,
Alcott Louisa May
The March sisters-Meg, Jo, Beth and Amy-are growing up in 19th-century America, and they have hopes, dreams and exciting plans for their future. One day they meet Laurie, the boy next door and he becomes a great friend of the family. This is a wonderful story about how friendship, kindness and love can make dreams come true and bring happiness to everyone.

The Lighthouse Ghost
,
Clemen Gina D.B.
Megan and Alex live in beautiful Caravel Cove, but one day something terrible happens: hundreds of dead fish are on the beach! No one knows why. Strange things are happening at the old lighthouse. Is Black Barney's ghost back? What does old Mr Johnson really know? Megan, Alex and their friend Steve start to investigate and the truth is shocking!

Le dernier tableau de Leonard
,
Gerrier Nicolas
Lina is fourteen and visiting her grandmother Maminou. Lina loves sports, but Maminou thinks she should learn about the life of Leonardo da Vinci. Luckily, an encounter with a boy called Romain changes everything. Romain is Lina's age, he's fun to be around and he's looking for… a secret tunnel — an adventure that will put the two teenagers in danger. Издание на французском языке.

Alarm at Marine World! + Audio + App
,
Clemen Gina D.B.
Megan and Alex live in sunny Florida and have an exciting summer job at the Marine World Aquarium. Their friend Steve joins them. When three dolphins mysteriously disappear from the aquarium and no one knows why, the three friends decide to investigate… but it's almost too late because time is running out!