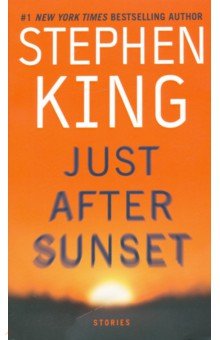 Автор:
King Stephen
Издательство:
Simon & Schuster UK
Год издания: 2009
ISBN: 9781439144916
Наличие:
на складе
Stephen Kingwho has written more than fifty books, dozens of number one New York Times bestsellers, and many unforgettable moviesdelivers an astonishing collection of short stories, his first since Everythings Eventual six years ago. As guest editor of the bestselling Best American Short Stories 2007, King spent over a year reading hundreds of stories. His renewed passion for the form is evident on every page of Just After Sunset. The stories in this collection have appeared in The New Yorker, Playboy, McSweeneys, The Paris Review, Esquire, and other publications. Who but Stephen King would turn a Port-O-San into a slimy birth canal, or a roadside honky-tonk into a place for endless love? A book salesman with a grievance might pick up a mute hitchhiker, not knowing the silent man in the passenger seat listens altogether too well. Or an exercise routine on a stationary bicycle, begun to reduce bad cholesterol, might take its rider on a captivatingand then terrifyingjourney. Set on a remote key in Florida, The Gingerbread Girl is a riveting tale featuring a young woman as vulnerableand resourcefulas Audrey Hepburns character in Wait Until Dark. In Ayana, a blind girl works a miracle with a kiss and the touch of her hand. For King, the line between the living and the dead is often blurry, and the seams that hold our reality intact might tear apart at any moment. In one of the longer stories here, N., which broke new ground when it was adapted as a graphic digital entertainment, a psychiatric patients irrational thinking might create an apocalyptic threat in the Maine countryside...or keep the world from falling victim to it. Just After Sunsetcall it dusk, call it twilight, its a time when human intercourse takes on an unnatural cast, when nothing is quite as it appears, when the imagination begins to reach for shadows as they dissipate to darkness and living daylight can be scared right out of you. Its the perfect time for Stephen King.



The Son
,
Meyer Philipp
The New York Times Bestseller Now A Major TV Series starring Pierce Brosnan and co-written by Philipp Meyer The critically acclaimed, New York Times-bestselling epic, a saga of land, blood and power, follows the rise of one unforgettable Texas family from the Comanche raids of the 1800s to the oil booms of the 20th century. Eli McCullough is just twelve years old when a marauding band of Comanche storm his Texas homestead, brutally murder his mother and sister and take him captive. Despite their torture and cruelty, Eli — against all odds — adapts to life with the Comanche, learning their ways and language, taking on a new name, finding a place as the adopted son of the band's chief and fighting their wars against not only other Indians but white men too, which complicates his sense of loyalty, his promised vengeance and his very understanding of self. But when disease, starvation and westward expansion finally decimate the Comanche, Eli is left alone in a world in which he belongs nowhere, neither white nor Indian, civilized nor fully wild. Deftly interweaving Eli's story with those of his son Peter and his great-granddaughter JA, The Son maps the legacy of Eli's ruthlessness, his drive to power and his lifelong status as an outsider, even as the McCullough family rises to become one of the richest in Texas, a ranching and oil dynasty that is as resilient and dangerous as the land they claim. Yet, like all empires, the McCulloughs must eventually face the consequences of their choices. Panoramic, deeply evocative and utterly transporting, The Son is a masterpiece American novel — part epic of Texas, part classic coming-of-age story — that combines the narrative prowess of Larry McMurtry with the knife-edge sharpness of Cormac McCarthy. 'Stunning ... a book that for once really does deserve to be called a masterpiece' Kate Atkinson 'Magnificent ... McCarthy's Border Trilogy is a point of reference, as is There Will Be Blood, but it is not fanciful to be reminded of certain passages from Moby-Dick — it's that good'The Times 'Brilliant ... a wonderful novel' Lionel Shriver

The Twelve Dogs of Christmas
,
Ritchie Alison
The big day has almost arrived and one little puppy is very excited about his first EVER Christmas. But with three drooling Dalmatians, six sausage-snaffling Scotties and every dog in town helping out, the festive season is a shambles! Will everything be ready in time for Christmas Day? Children will love picking their favourite dogs and spotting the puppy in busy scenes. This hilarious picture book is a great way to introduce children to Christmas traditions.

The Storm Whale in Winter
,
Davies Benji
The follow-up to the best-selling The Storm Whale, winner of the 2014 inaugural Oscar's First Book Prize in association with the Evening Standard, in a brand new cased board book format! It's winter time and Noi's island is covered in a blanket of snow. Even the sea is icing over. Noi is worried about the little whale he saved last summer: Can he survive the harsh conditions? Little does Noi know that it's the little whale's turn to save him. A magical and touching story about a lasting friendship. A truly beautiful work packing a real emotional punch.

Lords of the Desert. Britain's Struggle with America to Dominate the Middle East
,
Barr James
Upon victory in 1945, Britain still dominated the Middle East. But her motives for wanting to dominate this crossroads between Europe, Asia and Africa were changing. Where 'imperial security' — control of the route to India — had once been paramount, now oil was an increasingly important factor. So, too, was prestige. Ironically, the very end of empire made control of the Middle East precious in itself: on it hung Britain's claim to be a great power. Unable to withstand Arab and Jewish nationalism, within a generation the British were gone. But that is not the full story. What ultimately sped Britain on her way was the uncompromising attitude of the United States, which was determined to displace the British in the Middle East. Using newly declassified records and long-forgotten memoirs, including the diaries of a key British spy, James Barr tears up the conventional interpretation of this era in the Middle East, vividly portraying the tensions between London and Washington, and shedding an uncompromising light on the murkier activities of a generation of American and British diehards in the region, from the battle of El Alamein in 1942 to Britain's abandonment of Aden in 1967. Reminding us that the Middle East has always served as the arena for great power conflict, this is the tale of an internecine struggle in which Britain would discover that her most formidable rival was the ally she had assumed would be her closest friend.

Lord of Shadows
,
Clare Cassandra
Emma Carstairs has finally avenged her parents. She thought she'd be at peace. But she is anything but calm. Torn between her desire for her parabatai Julian and her desire to protect him from the brutal consequences of parabatai relationships, she has begun dating his brother, Mark. But Mark has spent the past five years trapped in Faerie; can he ever truly be a Shadowhunter again? And the faerie courts are not silent. The Unseelie King is tired of the Cold Peace, and will no longer concede to the Shadowhunters' demands. Caught between the demands of faerie and the laws of the Clave, Emma, Julian, and Mark must find a way to come together to defend everything they hold dear-before it's too late.

Lady Midnight
,
Clare Cassandra
It's been five years since the events of City of Heavenly Fire that brought the Shadowhunters to the brink of oblivion. Emma Carstairs is no longer a child in mourning, but a young woman bent on discovering what killed her parents and avenging her losses. Together with her parabatai Julian Blackthorn, Emma must learn to trust her head and her heart as she investigates a demonic plot that stretches across Los Angeles, from the Sunset Strip to the enchanted sea that pounds the beaches of Santa Monica. If only her heart didn't lead her in treacherous directions… Making things even more complicated, Julian's brother Mark-who was captured by the faeries five years ago-has been returned as a bargaining chip. The faeries are desperate to find out who is murdering their kind-and they need the Shadowhunters' help to do it. But time works differently in faerie, so Mark has barely aged and doesn't recognize his family. Can he ever truly return to them? Will the faeries really allow it?

Men Who Hate Women. From incels to pickup artists, the truth about extreme misogyny
,
Bates Laura
Imagine a world in which a vast network of incels and other misogynists are able to operate, virtually undetected. These extremists commit deliberate terrorist acts against women. Vulnerable teenage boys are groomed and radicalised. You don't have to imagine that world. You already live in it. Perhaps you didn't know, because we don't like to talk about it. But it's time we start. In this urgent and groundbreaking book, Laura Bates, bestselling author and founder of The Everyday Sexism Project, goes undercover to expose vast misogynist networks and communities. It's a deep dive into the worldwide extremism nobody talks about. Interviews with former members of these groups and the people fighting against them gives unique insights on how this movement operates. Ideas are spread from the darkest corners of the internet — via trolls, media and celebrities — to schools, workplaces and the corridors of power, becoming a part of our collective consciousness. Uncensored, and sometimes both shocking and terrifying — this is the uncomfortable truth about the world we live in. And what we must do to change it.

The Madman's Library. The Greatest Curiosities of Literature
,
Brooke-Hitching Edward
From the author of the critically acclaimed and globally successful The Phantom Atlas, The Golden Atlas and The Sky Atlas comes a stunning new work. The Madman's Library is a unique, beautifully illustrated journey through the entire history of literature, delving into its darkest territories to hunt down the very strangest books ever written, and uncover the fascinating stories behind their creation. This is a madman's library of eccentric and extraordinary volumes from around the world, many of which have been completely forgotten. Books written in blood and books that kill, books of the insane and books that hoaxed the globe, books invisible to the naked eye and books so long they could destroy the Universe, books worn into battle, books of code and cypher whose secrets remain undiscovered... and a few others that are just plain weird. From the 605-page Qur'an written in the blood of Saddam Hussein, through the gorgeously decorated 15th-century lawsuit filed by the Devil against Jesus, to the lost art of binding books with human skin, every strand of strangeness imaginable (and many inconceivable) has been unearthed and bound together for a unique and richly illustrated collection ideal for every book-lover.

The Boy Who Made the World Disappear
,
Miller Ben
Step into a world of wonder this Christmas with bestselling author Ben Miller and join Harrison on a magical adventure in The Boy Who Made the World Disappear. 'Stories are often about a good person who does a Bad Thing, and this is no exception ...' Harrison tries his best to be good. He doesn't steal, he always shares with his sister and he never cheats at board games, but Harrison also has a BIG flaw ... He can't control his temper! So when he's given a black hole instead of a balloon at a party, Harrison jumps at the chance to get rid of everything that makes him cross. But when it's not just things he hates that are disappearing into the black hole but things he loves, too, Harrison starts to realise that sometimes you should be careful what you wish for... An out-of-this-world adventure about twists of fate, time travel and troublesome black holes, Ben Miller's stunning storytelling is brought to life with beautiful illustrations from the bestselling Daniela Jaglenka Terrazzini.

The Green Mile
,
King Stephen
Masterfully told and as suspenseful as it is haunting, The Green Mile is Stephen King's classic #1 New York Times bestselling dramatic serial novel and inspiration for the Oscar-nominated film starring Tom Hanks. Welcome to Cold Mountain Penitentiary, home to the Depression-worn men of E Block. Convicted killers all, each awaits his turn to walk "the Green Mile, " the lime-colored linoleum corridor leading to a final meeting with Old Sparky, Cold Mountain's electric chair. Prison guard Paul Edgecombe has seen his share of oddities over the years working the Mile, but he's never seen anything like John Coffey-a man with the body of a giant and the mind of a child, condemned for a crime terrifying in its violence and shocking in its depravity. And in this place of ultimate retribution, Edgecombe is about to discover the terrible, wondrous truth about John Coffey-a truth that will challenge his most cherished beliefs...

Grandma Bird
,
Davies Benji
A tender and heart-warming new story from the world of The Storm Whale. Noi isn't at all sure about staying at Grandma's. Grandma boils seaweed for soup, and there's not much to do on the tiny island where she lives where the wind cuts in and the grass grows sideways . . . But that's before Noi gets swept up in the dramatic rescue that will mark the beginning of their touching new friendship.

Anatomy of a Scandal
,
Vaughan Sarah