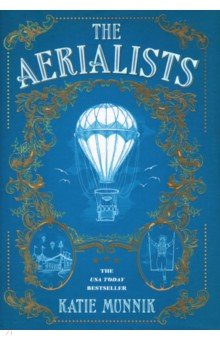 Автор:
Munnik Katie
Издательство:
The Borough Press
Год издания: 2022
ISBN: 9780008473198
Наличие:
на складе
Paris, 1891 Laura is living on the streets, far from the American Prairies where she was born. When rescued by the entrancing aerialists, Ena and Auguste Gaudron, she soon finds herself ensconced in the family hot air balloon business, and offered the chance to learn how to fly. Cardiff, 1896 The Gaudrons accept an invitation to be part of the Cardiff Fine Art, Industrial and Maritime Exhibition, presenting a daring show of balloon ascents and parachute descents. Then late one night, a young girl, Grace, knocks on the Gaudrons' door. She is desperate to fly, whatever the cost. As Grace's dreams begin to take wing, can Laura be the one to keep her grounded? Or will both girls risk it all for one dazzling moment of flight?



A Tidy Ending
,
Cannon Joanna
There's something not quite right about Linda Her house is ordinary, even though she doesn't feel quite at home. Her husband is ordinary, even if he never notices her. Her life is ordinary, but that just means Linda doesn't have to think about what happened before. Anyway, none of that matters now she has her new best friend Rebecca. Not even when the murders start. And Linda still might be able to get the tidy ending she deserves…

The End of Men
,
Sweeney-Baird Christina
A race against time The year is 2025. Mankind is under threat. A fight for their lives Men are dying, but women remain safe. As the sickness spreads to every corner of the globe, people fight to protect the men they love against all odds. A disaster like no other Can they find a cure before it's too late? Will this be the story of the end of the world — or its salvation? Compelling and devastating, The End of Men is the pulse-pounding thriller everyone is talking about.

Sometimes People Die
,
Stephenson Simon
The year is 1999. Returning to practice after a suspension for stealing opioids, a young Scottish doctor takes the only job he can find: a post as a senior house officer in the struggling east London hospital of St Luke's. Amid the maelstrom of sick patients, over-worked staff and underfunded wards a darker secret soon declares itself: too many patients are dying. Which of the medical professionals our protagonist has encountered is behind the murders? And can our unnamed narrator's version of the events be trusted?
The Island of Forgetting
,
Sealy Jasmine
In this compelling debut, an unknowable legacy passes through generations of one family living on the beautiful island of Barbados. There is Iapetus, a lonely soul haunted by the memory of his father; his son Atlas, dreaming of a life far removed from his reality; Atlas's daughter Calypso, struggling to find her place in an unforgiving society; and her son Nautilus, grappling with various parts of a complex identity. Each of them longs to escape — to go beyond the borders and circumstances that have contained them for so long — but each finds that they are trapped by a history found only in whispers and half-remembered fragments; and that it is dictating a future over which they have little control. With every passing decade another generation must contend with the same doubts about their identity, about their place in the small world they have carved out for themselves and the same question: how can the things we don't know define our futures? Perfect for fans of Girl, Woman, Other and Homegoing, THE ISLAND OF FORGETTING is a powerful story of family and hope, and marks the arrival of a stunning new voice in literary fiction.

Love Stories
,
Dalton Trent
Trent Dalton, Australia's best-loved writer, sat on a busy street corner with a sky-blue Olivetti typewriter and asked the world a simple, direct question: Can you please tell me a love story? A blind man yearns to see the face of his wife of 30 years. A divorced mother has a secret affair with a travelling priest. A widower miraculously finds a three-minute video recorded by his wife before she died. A lumberjack's heart falls in a forest. A working mum contemplates taking the photographs of her late husband down from the fridge. A girl writes her last letter to the grandfather she adored, then sets it on fire. A palliative care nurse helps a dying woman converse with the angel at the end of her bed. A renowned 100-year-old scientist ponders the one great earthly puzzle he was never able to solve: What is love? Endless stories. Human stories. Love stories.

The Truth about Her
,
Maley Jacqueline
How can you write other people's stories, when you won't admit the truth of your own? Journalist and single mother Suzy Hamilton gets a shocking phone call one morning: the subject of one of her investigative exposes, 25-year-old wellness blogger Tracey Doran, has killed herself overnight. Horrified by this news, she copes in the only way she knows how — throwing herself into work, looking after her young daughter and carrying on with two ill-advised affairs. But no one can make their own story disappear, and soon Suzy's life is spiralling into chaos: will it end in violence or redemption?

The Truth about Her
,
Maley Jacqueline
Journalist and single mother Suzy Hamilton gets a phone call one summer morning, and finds out that the subject of one of her investigative exposes, wellness blogger Tracey Doran, has killed herself overnight. Suzy is horrified by this news but copes in the only way she knows how — through work, mothering, and carrying on with several ill-advised affairs. The consequences of her actions catch up with Suzy over the course of a sticky Sydney summer. She starts receiving anonymous vindictive letters and is pursued by Tracey's mother wanting her, as a kind of rough justice, to tell Tracey's story, but this time, the right way. A tender, absorbing, intelligent and moving exploration of guilt, shame, female anger, and, in particular, mothering, with all its trouble and treasure, The Truth About Her is mostly a story about the nature of stories — who owns them, who gets to tell them, and why we need them. An entirely striking, stylish and contemporary novel, from a talented new writer.

The Ripping Tree
,
Gemmell Nikki
Early 1800s. Thomasina Trelora is on her way to the colonies. Her fate: to be married to a clergyman she's never met. As the Australian coastline comes into view a storm wrecks the ship and leaves her lying on the rocks, near death. She's saved by an Aboriginal man who carries her to the door of a grand European house, Willowbrae. Tom is now free to be whoever she wants to be and a whole new life opens up to her. But as she's drawn deeper into the intriguing life of this grand estate, she discovers that things aren't quite as they seem. She stumbles across a horrifying secret at the heart of this world of colonial decorum — and realises she may have exchanged one kind of prison for another. The Ripping Tree is an intense, sharp shiver of a novel, which brings to mind such diverse influences as The Turn of the Screw, Rebecca and the film Get Out as much as it evokes The Secret River. A powerful and gripping tale of survival written in Nikki Gemmell's signature lyrical and evocative prose, it examines the darkness at the heart of early colonisation. Unsettling, audacious, thrilling and unputdownable.

Everything the Light Touches
,
Pariat Janice
In this bold and brilliant work from the award-winning author of The Nine-Chambered Heart, journeys across continents and centuries intertwine in a multi-layered saga that unfolds through the lives of four unique characters. For Shai, lost and drifting, a visit to her hometown in India's Northeast offers the possibility of new ways of living. For Evelyn, a Cambridge student, scientific inspiration guides her to the forests of the lower Himalayas and a world she has only read about. For Johann, a German writer, travelling through Italy inspires him to develop ground-breaking ideas that will cement his place in history. And for a young Swede, an unwavering curiosity for earth's natural wonders takes him on an expedition that will forever alter the way we understand the world around us. A marvellous exploration of our ways of seeing, Everything the Light Touches brings together people and places that seem, at first, far removed from each other in time and place. Yet as we discover, all is resonance, all is connection.

The Family
,
Krupitsky Naomi
A captivating debut novel about the tangled fates of two best friends and daughters of the Italian mafia, and a coming-of-age story of twentieth-century Brooklyn itself. Two daughters. Two families. One inescapable fate. Sofia Colicchio is a free spirit, loud and untamed. Antonia Russo is thoughtful, ever observing the world around her. Best friends since birth, they live in the shadow of their fathers' unspoken community: the Family. Sunday dinners gather them each week to feast, discuss business, and renew the intoxicating bond borne of blood and love. But the disappearance of Antonia's father drives a whisper-thin wedge between the girls as they grow into women, wives, mothers, and leaders. And as they push against the boundaries of society's expectations and fight to preserve their complex but life-sustaining friendship, one fateful night their loyalty to each other and the Family will be tested. Only one of them can pull the trigger before it's too late. For fans of Elena Ferrante and Maggie O'Farrell, The Family introduces a stunning new voice in literary fiction.

Counterfeit
,
Chen Kirstin
Meet Ava: rule-abiding lawyer who has ticked all of life's boxes. She's married to a successful surgeon and has just taken an indefinite career break to raise her adorable toddler. A picture-perfect life. Meet Winnie: Ava's old college roommate. Once awkward, quiet and apparently academically challenged, she left Stanford in a shroud of scandal. But now, she is charismatic, wealthy and has returned to town dripping in designer accessories. An actual perfect life. When the two women bump into one another at a local coffee shop, it seems like fate has intervened: Winnie's new-found success is courtesy of a shady business and she needs a favour; Ava is realising she is not built for the stay-at-home life. But what starts as one favour turns into two, then three, and soon Ava is in far deeper than she ever imagined. Now Ava has to make the ultimate decision: cut and run, or risk it all?

Ridgeline
,
Punke Michael
The thrilling, long-awaited return of the #1 New York Times bestselling author of The Revenant In 1866, with the country barely recovered from the Civil War, new war breaks out on the western frontier — a clash of cultures between a young, ambitious nation and the Native tribes who have lived on the land for centuries. Colonel Henry Carrington arrives in Wyoming's Powder River Valley to lead the US Army in defending the opening of a new road for gold miners and settlers. Carrington intends to build a fort in the middle of critical hunting grounds, the home of the Lakota. Red Cloud, one of the Lakota's most respected chiefs, and Crazy Horse, a young but visionary warrior, understand full well the implications of this invasion. For the Lakota, the stakes are their home, their culture, their lives. Throughout this taut saga — based on real people and events — Michael Punke brings the same immersive, vivid storytelling and historical insight that made his breakthrough debut so memorable. As Ridgeline builds to its epic conclusion, it grapples with essential questions of conquest and justice that still echo today.