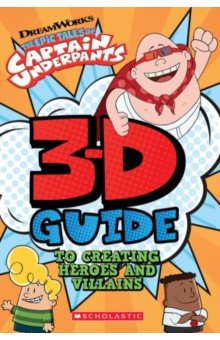 Автор:
Pilkey Dav
Издательство:
Scholastic Inc.
Год издания: 2023
ISBN: 9781338315660
Серия:
Captain Underpants
Наличие:
на складе
Watch George, Harold and Captain Underpants spring to life in this cool 3D book! Want to know how George and Harold come up with such hilarious heroes and wretched villains? Now's your chance to find out! The boys will give step-by-step instructions on how to draw some of their coolest villains, plus advice on how to bring your own funny comic-book characters to life-in 3D! This book is packed with 3D glasses; a write-on, wipe-off pen; a drawing pad; and over 30 stickers from the hit Netflix TV show.



The Captain Underpants Extra-Crunchy Book o' Fun
,
Pilkey Dav
Fans of Pilkey's Captain Underpants will have tons of fun with this activity book featuring George, Harold, Captain Underpants, and the bad guys from the first four books. Readers can test their knowledge with puzzles, games, comics, and trivia.

The Adventures of Captain Underpants
,
Pilkey Dav
George likes to write. Harold likes to draw. They figure all superheroes look like they're wearing underpants ? and so a new comic-book superhero is born. And this one's got Wedgie Power! The boys are just as creative in real life too. At the big football game, they put pepper in the cheerleaders' pom-poms, helium in the football, and itching powder in the coach's muscle rub. And Mr. Krupp, the mean principal, films it all! Now the boys have to behave, or else. That is, until their hypnotizing ring arrives. Then watch out, Principal Krupp!Series InformationWhen fourth graders George and Harold accidentally hypnotize their principal, Mr. Krupp, they turn him into Captain Underpants, the world's most underdressed superhero. All it takes is a snap of the fingers to let this caped crusader loose upon a world of talking toilets, lunchroom zombies, purple potty people, and more outrageous villains. Mr. Krupp has no idea what's happening ? which makes it even funnier, since he can't stand George and Harold and would never do what they command. But he always manages to save the day anyway, with thrills and laughs to spare.

Captain Underpants and the Sensational Saga of Sir Stinks-A-Lot
,
Pilkey Dav
George and Harold, and their doubles, Yesterday George and Yesterday Harold, have a good thing going. Two of them go to school, while the other two hide in the tree house and play video games all day — then they switch! But when their malicious gym teacher, Mr. Meaner, creates a method of mind control that turns their fellow students into attentive, obedient, perfect children, the future of all humanity will be in their hands!

Captain Underpants and the Attack of the Talking Toilets
,
Pilkey Dav
George and Harold won't be able to participate in this year's science fair. That's because they glued Principal Krupp to his chair at last year's science fair. But that won't stop them from messing with the science projects. So the electric dog washer shoots out black ink, the model volcano blows out butterscotch pudding, and the boys end up in detention. With time to kill, they create a new Captain Underpants episode, this one with attacking toilets. But when the school science genius turns the cartoon into reality, it's time for Mr. Krupp to transform into everyone's favorite underwear-wearing superhero!

Captain Underpants and the Invasion of the Incredibly Naughty Cafeteria Ladies from Outer Space
,
Pilkey Dav
The third Captain Underpants adventure like you've never seen it before: in full color! George and Harold have played a trick or two on nearly everyone at Jerome Horwitz Elementary. When their latest prank causes the school's cranky cafeteria ladies to quit, Mr. Krupp hires a trio of unusual replacements, who happen to look an awful lot like aliens! Will that curtain-caped crusader, Captain Underpants, save the day once more? Or will those outer-space cafeteria ladies have him for lunch?

Captain Underpants and the Perilous Plot of Professor Poopypants
,
Pilkey Dav
The fourth Captain Underpants adventure like you've never seen it before: in full color! Professor Pippy P. Poopypants may well be the greatest scientific genius the world has ever known. Unfortunately, he has such a silly name that nobody takes him seriously! He's been laughed out of every university in the world. In fact, the only place that'll hire him is Jerome Horwitz Elementary School. Professor Poopypants is certain that schoolchildren would never laugh at his name. "Kids are so accepting and loving, " he assures himself. And it's really important that nobody laughs at his name, or makes a comic book about him, or makes jokes about him in any way. Because if one more person does, Professor Pippy P. Poopypants might just fly into a frenzied rage and take over the planet with his brilliantly wild and evil inventions! Watch out, kids! The amazing Captain Underpants is about to meet his match!

Wacky Word Wedgies and Flushable Fill-Ins
,
Beard George
,
Dewin Howie
,
Hutchins Harold
Want to create your own Captain Underpants adventures, just like George and Harold? Then pick up a pencil and get ready for some actions, thrills, and laffs! This book has over a dozen wacky fill-in stories starring George, Harold, the Amazing Captain Underpants, Professor Poopypants, Cafeteria Lady Edith, the Turbo Toilet 2000, and all your other favorites from the new movie. Plus tra-la-la-riffic stickers!

The Epic Tales of Captain Underpants. George and Harold's Epic Comix Collection. Volume 1
,
Rusu Meredith
This collection features George and Harold's hilarious comics from the first two seasons of the TV show-over 20 comic stories total. Each epic adventure features a brand-new villain from the hit Netflix series.

The Epic Tales of Captain Underpants. Wedgie Power Guidebook
,
Howard Kate
Meet George and Harold, two fun-loving best friends with a special talent for trouble. The only thing they love more than pulling pranks is creating comic book heroes like the Amazing Captain Underpants. When the boys accidentally bring Captain Underpants to life, Jerome Horwitz Elementary, and the world, will never be the same! The Epic Tales of Captain Underpants: Wedgie Power Guidebook is your complete guide to these pranksters and their animated adventures, with full-color illustrations from the Netflix animated TV series!

Captain Underpants and the Big, Bad Battle of the Bionic Booger Boy. Part 1
,
Pilkey Dav
George and Harold are up to their old tricks again, and when their latest prank makes a direct hit on school brainiac Melvin Sneedly, he decides to get even! But in the blink of an eye — and the sneeze of a nose — Melvin goes from snooty to snotty, and the Bionic Booger Boy is born! Can Captain Underpants clean up this catastrophe, or will the mucous monster make a mess of things?

Captain Underpants and the Big, Bad Battle of the Bionic Booger Boy. Part 2
,
Pilkey Dav
George and Harold thought they were beyond boogers. Their new pet, Sulu the Bionic Hamster, had defeated the Bionic Booger Boy, and through the wonders of science, Melvin Sneedly had been brought back to normal (well, almost normal). It looked like their last adventure was actually going to have a happy ending... except for one thing (well, three things) — the Ridiculous Robo-Boogers. Now George, Harold, and their buddies are on the run — with the Robo-Boogers in hot, gooey pursuit! Will the boys get away from these gross globs, or will Sulu have to save the day again?

Captain Underpants and the Preposterous Plight of the Purple Potty People
,
Pilkey Dav
Laugh out loud with Captain Underpants, the #1 New York Times bestselling series from Dav Pilkey, the creator of Dog Man! Now in full color! George and Harold's time-traveling Purple Potty has landed them in a crazy place! The teachers are nice, the cafeteria serves delicious food, and the school principal, Mr. Krupp, thinks they're hilarious. Something is very, very wrong — and it gets even wronger when the boys' pet pterodactyl, Crackers, and Sulu the Bionic Hamster are captured by George and Harold's evil-twin look-alikes. Now George and Harold must face their greatest foes yet: themselves! Can they handle this mess on their own, or will they need Captain Underpants to swoop in and save the day?